Universal Studios Hollywood
This is the original Universal Studios Park, and the older sibling to Universal Studios Florida. While the Florida Park is great, it is ultimately an amusement park. Universal Studios Hollywood is the real deal: this is an actual, working movie and TV studio. If you're coming to Hollywood to see celebrities, this is one of the places it could happen.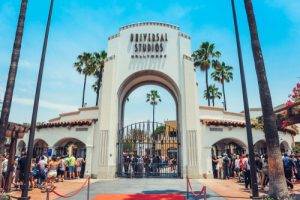 Universal Studios Hollywood is broken up into three parts:
Universal Studios Park
The amusement park side of the house, this is where you can have some high-speed fun. Major themed attractions (they are so much more than just "rides") include Jurassic World, Revenge of the Mummy, and Transformers: the Ride 3D. These are completely immersive experiences that put you IN the movie. The Special Effects Show will let you really peak behind the scenes and see how the practical effects, technology, and stunts that make movies great are done. There are also characters roaming the Park: don't be surprised if Homer Simpson bumps into you. Hoards of Minions, Scooby-Doo and others will keep you jumping. The Park is also home to the Wizarding World of Harry Potter. If you ever want to feel like you've dropped into a movie, this is the place. You'll get to wander Hogsmead (definitely sample the Butter Beer), enter Hogwarts, and choose your own wand (well, the wand chooses you, but you know that if you've read the books).
The Park can be busy, but if you time it right, you can see everything. Check their hours, and be there when the gates open. Take a look at the maps online so you have an idea of where you're going for the big attractions.
Universal also offers a variety of VIP tours. And hey, this is Hollywood, so they know how to do VIP. This is where they make YOU feel like the Star. You've get exclusive access to those backstage areas where celebrities roam, express access to themed attractions, and a private VIP meal. Check out their website for more information.
The Studio Tour
On the Studio Tour, you literally go backstage in the oldest, and biggest movie and TV studio. You'll ride a special tram through city streets that look very familiar. They should, you've been seeing them for years on the big and small screens. Celebrities? Yes, this is where they are. On my last visit, our team drove by Orlando Bloom, who stopped talking on his cell phone to smile and wave to us. This is Hollywood, so expect surprises here. Jaws and King Kong both lurk backstage.
CityWalk
CityWalk is the dining and shopping district of Universal Studios. With free parking, you can make multiple visits to pick up souvenirs. Restaurants range from Bubba Gump Shrimp and Johnny Rockets, to Taco Bell and Pizza Hut. One of the big draws is the Universal Studios Store, Here you can pick up almost anything movie or tv show themed. It's also the last chance to pick up that Harry Potter wand that's been calling you. CityWalk is great to relax after a busy day running around the Park. Have a quiet meal with the kids, or do some partying. CityWalk has always got something going on. Universal Studios Hollywood
---